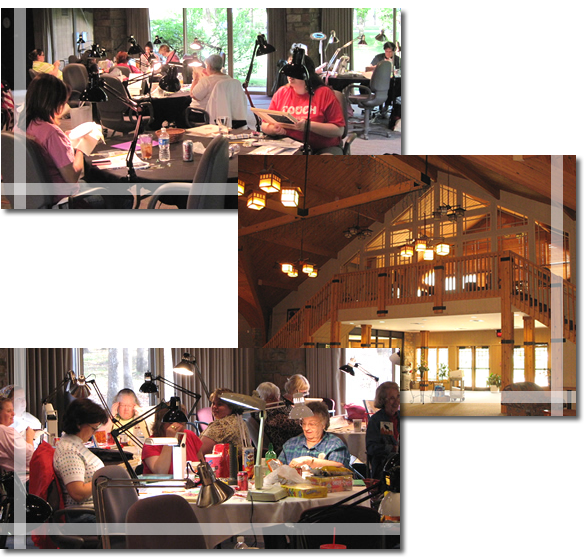 STIITCHING RETREATS

FALL FLING 2011: November 4th - 6th.
SPRING FLING 2012: call for dates.
KNITTING RETREATS 2011/12 - same dates



This is our 27th year of offering a retreat weekend of technique classes and fun stitching with a small group of new friends and nationally recognized designers.  The retreats are limited to 40 people and are designed to give you a relaxing fun-filled cross stitch getaway with lots of different stitching projects.  They start Friday evening and end noon Sunday.  You can come alone or with a group, either way you'll leave with new friends and loads of new stitching ideas. 

Our facility is Post Oak Lodge, located about 15 min. from downtown Tulsa.  This beautiful resort is on a hill overlooking the city with gorgeous accommodations in a wooded setting.  We have a large stitching room with glass windows all around and a separate dining room so you can leave your stitching set up all day.  The food is fantastic with a 5 star chef and snacks are provided all day.  Each cabin has 4 bedrooms with 2 queen beds in each room.  Each room has its own bathroom- no sharing with others- and each cabin has a living room in the center.  A TV, microwave, coffee pot and refrigerator are provided in each cabin.  To see more of these great accommodations go to the website - www.postoaklodge.com.

The retreat prices include all your kits, prizes and giveaways, food, lodging (Fri. and Sat. nights) tote bag full of goodies, classes and personal instruction from Cindy and several of the girls from the shop for the entire weekend.  Our Flings provide 4 classes with lots of free time for stitching or just enjoy the spa.  Flings fill up fast so hurry and call in – ½ deposit holds your spot.  Cost for the Fling is $375.00.  The classes for each seasonal Fling are different so you can attend each one and have different projects.  We also offer a day retreat price that includes everything except for the overnight.  This is for those who can't stay the night but don't want to miss the fun!